Grimsby Goat Yoga
HAMILTON-NIAGARA'S PREMIER GOAT YOGA
Last updated January 2021
Due to the pandemic, and the building of our new barn and facilities, we will not be hosting yoga in 2021 -we hope to be back in 2022!
Yes, it's true! You've heard the buzz, seen it on-line, and now it's your turn to participate.
Grimsby Goat Yoga is real!

Join the hundreds of people who have already scratched it off their bucket list.
So WHAT IS GOAT YOGA??
Goat Yoga is an amazing opportunity to spend time in the beautiful country outdoors, relaxing, de-stressing and unplugging from the world. Learn the basics of Yoga while enjoying the immeasurable cutest of our wonderful, friendly miniature goats. Although some may think goats playing and nibbling on Yoga mats may seem distracting, the combination of goats and Yoga brings a feeling of pure joy and relaxation all at once. Focus on your Yoga or the goats, choice is yours. A truly unique way to forget about your worries, and get in tune with nature and yourself.
Summer/Fall Dates available for groups of 15+people
If your group is interested in a future class, please email us at pocketgoats@gmail.com.
_______________________________________________
All registrations must be pre-paid, dates will not be held without prepayment.
Classes are available for participants ages 12 and up.
Yoga mats are available for $3 rental on site, cash only please.
Please arrive a minimum of 15 minutes before start time to ensure parking and time to set up your mat.
Cancellation Policy:
All classes are held outdoors, so please dress appropriately. Classes will only be cancelled for heavy rains or thunderstorms, 24 hours advance notice will be given if class needs to be rescheduled.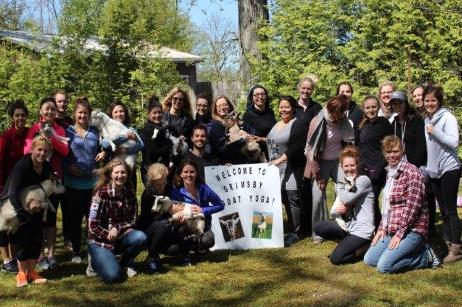 Past class photos are posted on our facebook page, search redbarngoatfarm to view and find your friends!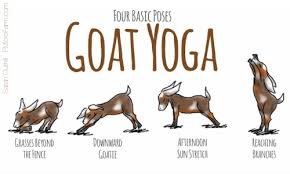 Private, group, and corporate sessions also available by special request. Just email pocketgoats@gmail.com.