Goats for sale
Last Updated October 9 2017
Email for availability of pet goats, often not listed here.
Curly has a small stature, tricolor beautiful coat, throws great colour into a herd. His longer coat is ideal for silkie lines as well. His bangs are just the best! He was born in April 2015. We are retaining his kids, so time for him to move to a new home. Excellent temperament and easy to handle. More pics and video available upon request.
All of our goats are sold up to date on vaccinations, worming and hooves trimmed. Curly is $350 ready to go anytime. If not sold he will be retained in the herd.
POPCORN (AKA POPPY)
SOLD -thanks Paige!
Poppy is the smallest goat born to date on our farm. Her mother Pipsqueak weighs just 32 pounds (pre-pregnancy) and Poppy was born 3.5 lbs on January 23, 2017. We found her all clean and dry, popping around the pen one morning, she acted like she was a week old, so strong and feisty, hence the name Popcorn.
Poppy is $475, we expect her to finish around 30 pounds. We do not recommend breeding these pocket goats without careful consideration, and only once 2years old or older.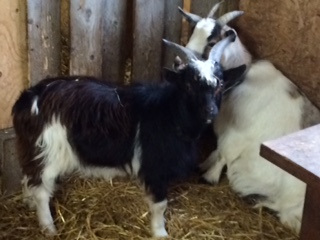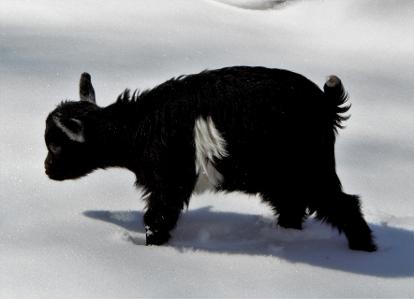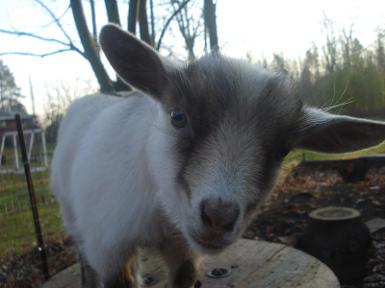 Polled Goats
Naturally Hornless
Some people prefer not having horns, and do disbud or burn them when about a week old. With a polled goat you won't have this unnatural task, and your new kid will now have the polled gene which they can pass on in their offspring!
A note on polled genetics - to see which combinations makes polled or horned kids check out this chart.
Horned (pp) X Horned (pp) = 100% horned (pp) offspring.
Polled (Pp) X Horned (pp) = 50% polled (Pp), 0% horned(pp) offspring.
Polled (Pp) X Polled (Pp) = 25% polled (PP), 50% polled (Pp), 25% horned (pp) offspring
Homozygous polled (PP) X Horned (pp) = All polled (Pp) offspring.
Homozygous polled (PP) X Homozygous Polled (PP) = All homozygous polled (PP) offspring.
Looking for kids?
We will have 2 does kidding again in June so drop us an email to get on our 2017 waiting list! Kids will not be separated from mothers until 10-12 weeks of age to ensure they are strong eating on their own well.Boys can be fixed upon request.
If you are interested in a starter herd or breeding does drop me a note and we will see what we can do for you ;)
TC