Grimsby goat yoga returns in spring 2018
HAMILTON-NIAGARA'S PREMIER GOAT YOGA
Last updated October 6, 2017
Yes, it's true! You've heard the buzz, seen it on-line, and now it's your turn to participate.
Grimsby Goat Yoga is coming back may 2018!

Join the hundreds of people who have already scratched it off their bucket list.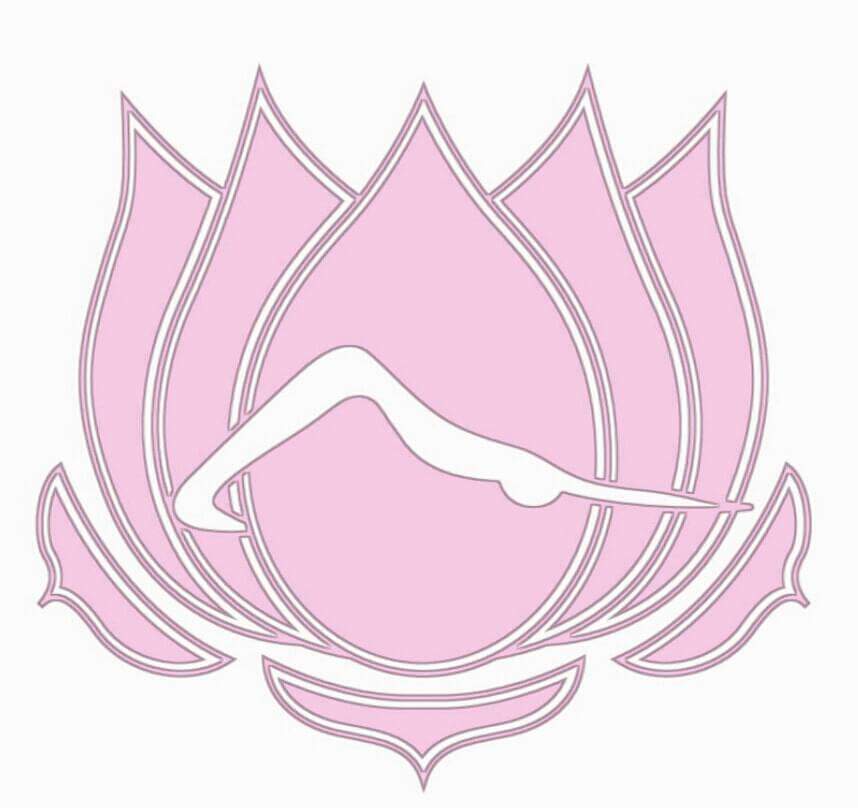 Grimsby Yoga
&
Red Barn Goat Farm
We offer unique 1 hour sessions in a beautiful country farm setting hosted by Grimsby Yoga and Wellness and Red Barn Goat Farm located at 98 Elm Tree Road East, Grimsby, just 3 km from downtown. Surrounded by mature trees in a park like atmosphere, with natural moss grounds, experience Yoga like you have never experienced Yoga before! Get in tune with nature and realize the calming, relaxing, yet rejuvenating experience being with truly irresistible Pocket Goats.
* PLEASE NOTE CLASSES ARE HELD OUTDOORS, PLEASE DRESS APPROPRIATELY, ALSO THERE ARE NO PUBLIC WASHROOMS ON SITE*
Available class times & dates:
To be announced- May 2018
Pre- registration rate is $30 + tax. Drop ins rate $40 cash only including tax. Yoga mats are available for $3 rental on site, cash only please.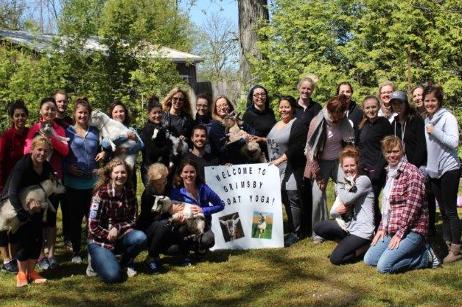 Past class photos are posted on our facebook page, search redbarngoatfarm to view!
Email us at Pocketgoats@gmail.com with "New Class" in the subject line to receive notification when new classes become available
Private, group and corporate sessions also available by special request. Just email pocketgoats@gmail.com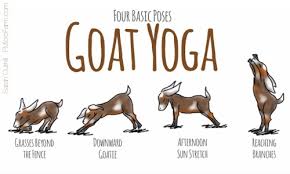 So WHAT IS GOAT YOGA??
Basically, it's an opportunity to spend time in the beautiful outdoors, relaxing, de-stressing and unplugging from the world. Learn the basics of Yoga while enjoying the immeasurable cutest of wonderful, friendly pocket goats. Although some may think goats playing and nibbling on Yoga mats may seem distracting, the combination of goats and Yoga brings a feeling of purejoy and relaxation all at once. Focus on your Yoga or the goats, choice is yours. A truly unique way to forget about your worries, and get in tune with nature and yourself.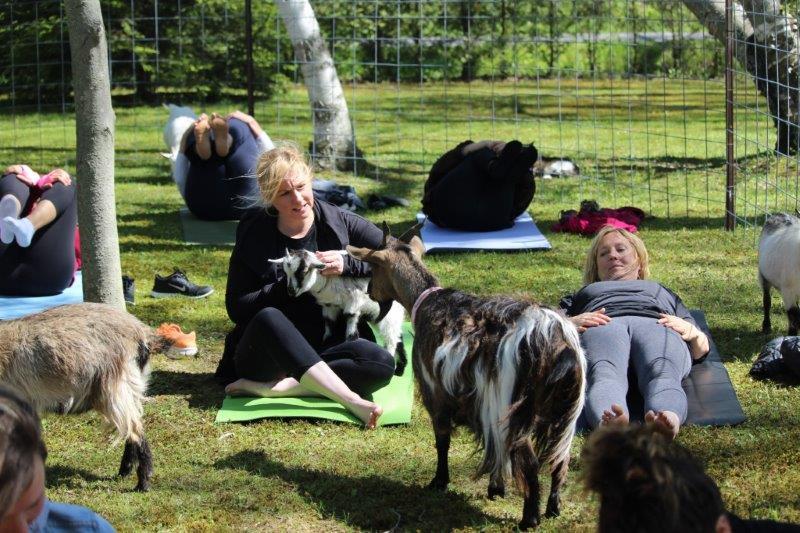 The Fine Print...
Guests will be notified the evening prior via email should any class be cancelled due to extreme inclement weather such as thunderstorms or heavy rains. Low temperatures will not be considered reason for class cancellations, please dress appropriately. For student cancellations to receive credit toward another class, cancellation/rescheduling must be made a minimum or 24 hours in advance. No show=no refund or credit. Free parking, Due to limited parking please car pool wherever possible. Please note we do not have bathrooms available on site.